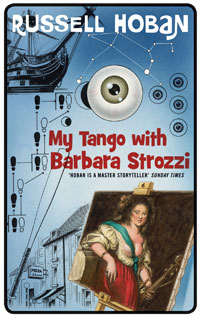 I just updated the News page over at The Head of Orpheus, the Russell Hoban Web site I maintain, so I figured I might as well cross-post the info here as well (with a few slight formatting tweaks).
Autumn 2007 is shaping up to be a great season for Hoban fans, with Russ's next novel My Tango with Barbara Strozzi being released in the UK, his previous novel Linger Awhile just released in the US, and some interesting stage and film productions in the pipeline as well.
Tango Time. Russ's newest novel, My Tango with Barbara Strozzi, is slated for UK release on November 5, 2007 by Bloomsbury Publishing.
While you're crossing days off the calendar, you can pre-order a copy of My Tango with Barbara Strozzi from Amazon UK.
Here's the synopsis Amazon UK gives:
Phil Ockerman falls hard for Bertha Strunk at a tango lesson in a church crypt in Clerkenwell. 'Is Bertha's trunk anything like Pandora's box?' he wonders. Each recently separated, both their Suns are squared by Neptune. Bertha also bears a strong resemblance to the 17th century Venetian singer and composer Barbara Strozzi (with whom Phil happens to be obsessed), to the point where Phil is no longer sure which is which. On their first serious date, Phil and 'Barbara' watch "The Rainmaker", a tale of battered wifery and the murder of an ex-husband. Could it be that Barbara's choice of film is not entirely innocent, especially considering that Phil afterwards finds himself carrying around a potential murder weapon? Navigating several London Underground lines and considerable planetary activity, Russell Hoban's intriguing romance tangos its way through a world of infidelity, artificial eyeballs, baseball bats and music – never missing a daring, seductive step.
Bloomsbury's Web page for the book has a slightly different (earlier?) version of the same synopsis, and if they follow their pattern for previous releases, I'm guessing an excerpt will be available there before too long.
Vampire Cowgirls US Tour. Russ's previous novel, Linger Awhile, was released in the US on August 16 of this year by David R. Godine, the same publisher who last year released two beautiful new editions of Russ's classic Captain Najork books for kids.
I previously blogged about the US edition of Linger Awhile in this post here on OcPot. See this link for details on the original Bloomsbury UK edition of Linger Awhile.
Here's a handy link to order the US edition of Linger Awhile from Amazon.com.
Stage and Screen. Russ tells me that the Royal Shakespeare Company are working on a new stage adaptation of The Mouse and His Child to be produced in 2008, and also that "a young filmmaker" has an option on Amaryllis Night and Day, and is currently looking for funding to move forward with it. (Amaryllis is one of my very favorites among Russ's "late period" novels, so I'm glad to see it getting some attention. I'm still puzzled as to why Amaryllis hasn't been released in the US. Ditto for The Bat Tattoo, another of Russ's strongest recent books.)
Meanwhile, filmmaker Jake Wilson, who has worked as an assistant producer for the BBC among other credits, is developing a documentary project about Russ. It's still in the early stages, but the project has Russ's blessing and Jake is filming some interviews with him as a starting point.
Finally, the Red Kettle Theatre Company of Waterford, Ireland will be staging the theatrical version of Riddley Walker this fall, inside an actual "big top" circus tent! The production goes into previews on November 7, 2007, with its official opening on Saturday November 10, and then running through November 17 (no show Sunday the 11th, though). There's a great picture of Russ with Artistic Director Ben Hennessey of Red Kettle on the company's Web site.
Ben is a longtime Hoban fan who has been posting to The Kraken occasionally, and will be bringing a deep familiarity with Riddley to this production — so all indications are that it will be something special. Some members of The Kraken are planning to make the trip to Waterford to catch the production.
Previously on Ocelopotamus: