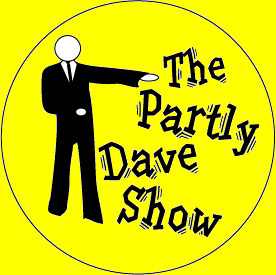 So, here's some of that "other news" I mentioned in my previous post: Partly Dave is back!
Oh, yes, you read that right, Mabel. The Partly Dave Show has been unpacked from its wooden chest, mothballs brushed away, and is ready to flatter your figure again just like the old days — and it's happening in just one short week, on Friday February 20th!
Partly Dave's triumphant return (our first show since 2007!) takes place at the Viaduct Theater as part of this year's Rhinoceros Theater Festival.
The theme for this edition is "Please Mister Postman": an evening of pieces about letters, mail, and the post office! Both of my scintillating co-hosts, Christopher Piatt and Diana Slickman, are on board, and our super-special guests include Scott Hermes (of the Neo-Futurists and the legendary Cardiff Giant) and Dan Godston (poet, trumpeter, and curator of the Chicago Calling Arts Festival).
And we have the privilege of presenting the debut of a hot new band as our musical guests this time out! For those of you who remember Analog Radio from the "Way of the Worrier" edition back in 2004 — well, Dann Morr from Analog Radio is in a brand-new outfit called Wells-next-the-Sea, featuring (I'm told) boys, girls, flutes, fiddles, and I don't know what all kind of mayhem. This is gonna be good!
Hear are all the specs in handy at-a-glance form:
The Partly Dave Show: Please Mister Postman
Hosted by Dave Awl,
with co-hosts Christopher Piatt
and Diana Slickman
Guest performances by:
Dan Godston
Scott Hermes
And live music by:
Wells-next-the-Sea
Friday, February 20, 2009, at 9:30pm
as part of the Rhinoceros Theater Festival 2009
at the Viaduct Theater
3111 N. Western Avenue
Chicago, IL
Tickets: $12 or "pay what you can"
All reservations are handled through the
Viaduct Theatre box office at (773) 296-6024.
More info:
partlydaveshow.com
Oh … and check out the shiny new Facebook page for the Partly Dave Show!
Click through to "become a fan," as they say over there!
And thanks to Chicago Stage Review for the mention!