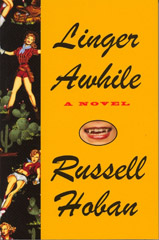 A few days ago I got a package in the mail from the David R. Godine publishing house, who last year republished both of Russell Hoban's hilarious Captain Najork children's books in the US (and did a lovely job of it).
Inside the package was an advance copy of the forthcoming US edition of Russ's most recent novel Linger Awhile, which was published in the UK by Bloomsbury Publishing last year. It's basically a story about a 1950's black-and-white movie starlet who is brought to life from an old videotape, and becomes a sexed-up vampire cowgirl who terrorizes London for a while. As you do, in those circumstances.
The US edition will be published on August 16, 2007. It's a nice trade paperback with foldover flaps inside the covers (i.e., built-in bookmarking devices), and cover art that's very similar in spirit to Bloomsbury's UK edition.
You can read more about it, and order advance copies on the David R. Godine Web site.
The specs:
Softcover, 144 pages
ISBN 1-56792-326-7
978-1-56792-326-1
2007, $15.95
For those of you who aren't familiar with Russell Hoban, or the story of how I wound up as his semi-official Webmaster and fan club founder, I'll fill you in on the backstory after the jump.
Nine years ago, in the spring of 1998, I was learning to code HTML so I could build Web sites. I needed a learning project, so I decided to build a site devoted to one of my two favorite living authors, the American-born British novelist Russell Hoban.
Russ is the author of a slew of wildly original novels including Riddley Walker, Turtle Diary, and many more, as well as the universally popular Frances the badger books for children (such as A Birthday for Frances) and the classic children's novel The Mouse and His Child, among tons of others.
And Russ is without a doubt one of the most inventive and original writers of the last century. See "Who Is Russell Hoban, and What's His Deal, Anyway?" for more background. It's my best attempt at describing his indescribable style, and why his books have meant so much to me over the years.
The Web site I built, The Head of Orpheus, became a gathering place for Hoban fans from around the world, and eventually spawned an online community called The Kraken, which became the de facto Russell Hoban fan club. (The Head of Orpheus and the Kraken are both characters in my favorite Hoban novel, The Medusa Frequency.)
Russ found out about the site very quickly and gave it his blessing, and even participated in discussions on The Kraken's message board for a couple of years.
In 2005, The Kraken organized the first-ever Russell Hoban literary convention, which was held in London, and Russ himself showed up to favor us with a reading.
Also, The Kraken observes Russ's birthday every year with a sort of public-art happening called the SA4QE, which stands for Slickman A4 Quotation Event. (It's named after my pal Diana Slickman, of the Neo-Futurists and The Partly Dave Show, who has been an active member of The Kraken over the years and who thought up the idea for the SA4QE.)
In a nutshell, on or about February 4, Hoban fans around the world write favorite quotations from Russ's books on pieces of yellow paper (yellow paper plays a key role in several Hoban books), and leave them in public locations for other people to find. It's kind of like an anonymous literary valentine, only instead of saying "I [heart] you" it says something like "It is the longing for what cannot be that moves the world from night to morning." Richard Cooper, one of The Kraken's stalwarts, documents all this meticulously on the SA4QE Web site. (Some of my early contributions to the SA4QE site, including photos of yellow-paper drop locations, can be viewed here.)
The Head of Orpheus will be 10 years old in 2008 (the Web site, I mean, not the actual — oh, you know), and it's definitely showing its age. The design and code are both looking very 1998, there's lots of outdated infomation about where to buy various books, and it just generally needs a massive overhaul, which I'm hoping to give it later this year. But it's still a good central repository for a lot of info and writing about Russ and his work, and I'm proud of the role it played in helping Hoban fans find out about what he was up to in the years before the rise of Wikipedia.
Getting to know Russ personally, as well as a slew of wildly erudite and talented Hoban readers and scholars from all over the globe, has been the icing on the cake. (I have to note here that Russell Hoban fans are some of the nicest and smartest people you'll ever meet. For some reason his work seems to attract people who are both well-read and highly imaginative, as well as having access to deep reservoirs of courtesy and patience. If I'd never read his books I'd start just so I could hang around with the other people who do.)
Russ has been amazingly prolific over the last decade or so, and has had a new novel out every year or two. Which brings me full circle to the release of Linger Awhile.
All that said, I love the folks at Godine for including this in the capsule bio of Russ on their site:
Hoban has an active fan club called The Kraken and has inspired symposiums based on his writing.
In fact, I don't know if it will make it to the final published version or not, but the Russ bio on the inside flap of the book itself says almost exactly the same thing, with one addition:
Hoban has an active fan club called The Kraken, a website dedicated to him, and has inspired symposiums based on his writing.
Nice.
By the way, if you've never read any Hoban before and you're looking for something to start with, I recommend one of these:
You can turn up new or used copies of all of those, even the ones that aren't currently in print, by searching on Amazon or Amazon UK.
… or go ahead and spring for The Russell Hoban Omnibus, which includes Turtle Diary, The Lion, and a wealth of other goodies which are detailed here.