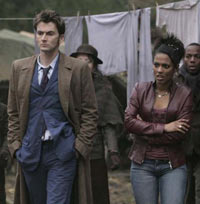 The Doctor Who two-part story "Daleks in Manhattan/Evolution of the Daleks" wrapped up this weekend on the BBC, with the Doctor and Martha battling Daleks (and their pig-headed assistants) in the newly built Empire State Building in early 1930s New York, against the backdrop of the depression. The episodes featured some great historical background, with part of the action taking place in a "Hooverville" — the name for the makeshift villages of homeless people that sprang up in the Herbert Hoover era.
The Daily Record has an interview with Ryan Carnes (of Desperate Housewives fame) about his experience donning heavy pig drag for his role in the episodes. Click through to see what it looked like. Key quote:
"I didn't really get to see people at lunchtime because I had to be very careful with my pig face. I had to go to my trailer and sit in front of the mirror and watch myself eating so I didn't wreck the prosthetics."
He also says:
"I wasn't a fan, but I'd known about it because a friend of mine had a Doctor Who pinball machine in his basement when I was a teenager, so that was my first introduction as an American.

… "I'm a huge fan of Doctor Who now. I gained a whole new respect for science fiction."
Meanwhile, for the stateside fans, Outpost Gallifrey News says:
The Sci Fi Channel has announced it will start airing Series Three of Doctor Who in the USA from July 6 at 9pm.
Hopefully that means Season 3 DVDs will be available in time for Whovian Holiday shopping.