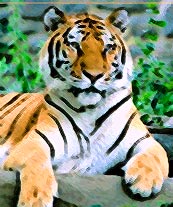 Indian-American playwright Rajiv Joseph has a new play opening off Broadway this week. It's called Bengal Tiger at the Baghdad Zoo, and it tells the story of the "shock and awe" campaign in Baghdad as seen through the eyes of a "ratty old Bengal tiger caged in the bombed-out Baghdad zoo."
Joseph told DNA he was moved to write Bengal Tiger which takes his audience into a Kafkaesque Iraq following two American soldiers, a talking tiger and an Iraqi translator after he read a news item.

"An Associated Press story reported how American bombs had blown apart the Baghdad Zoo in 2003. The animals escaped — the lions literally ran through the streets during a blazing gun battle and were shot and killed by US Marines," said Joseph.

"An American soldier stationed inside the zoo to guard it felt sorry for a hungry caged Bengal tiger and tried to feed it. The tiger bit off his hand. The other soldier promptly shot and killed the tiger. That was the end of the article. I read this absurd story and was really touched and haunted by it," added the 32-year-old playwright, who teaches writing at New York University.
As the show's protagonist, the tiger speaks directly to the audience, telling them "how much his life sucks," according to the playwright:
"At one point, the tiger talks about cruelty and how years ago, when he was living in the Sundarbans, he killed two children. He ate them and caused misery to the parents. But he insists it wasn't cruel, it was lunch. Yet, now children are being killed in Baghdad for no reason half as good as lunch."
A brilliant line, and all too true.
I'm hoping there will be a Chicago production of this eventually — I'd love to see it.
(h/t Norm Sloan)