Methinks some people in the t-shirt business misunderstand the basic idea of funniness.
For example, I just got a little ad on Facebook, which claims this is "the funniest Star Trek t-shirt ever … !"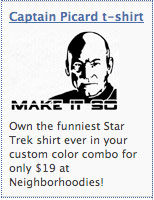 Well, um … no. That's not especially funny. Sure, "Make it so" was Captain Picard's catchphrase. But there's nothing funny about just slapping that onto a T-shirt next to his picture.
If you want a Captain Picard shirt that's actually funny, what you do is you have him sitting in front of a sewing machine, frowning.
The caption reads: "MAKE IT SEW."
Now that's comedy!
If you really want to go for the gold, you could have Worf working on some needlepoint in the background, maybe.