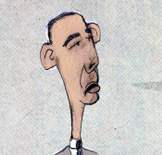 The brilliance of Mr. Fish! I really need to start including him in my cartoon roundups.
His take on Obama v. Wright is especially trenchant.
I'm not necessarily saying that I absolutely agree with the cartoon's comically reductive expression of certain religious beliefs, but its portrayal of the double standard regarding what's considered fair game for criticism is definitely on point.

***


Also, while I've got you, I might as well post the ad that has Republican operatives all in a lather.
Because it's so incredibly unfair to show footage of John McCain actually saying the things he actually says. How can they possibly fight back against such underhanded tactics? Is nothing sacred?

***


Finally, just in case there's anyone you know who doesn't understand why the phony "gas tax holiday" that Hillary and McCain are pushing is a complete swindle and a huge insult to the intelligence of the public, let me explain it slowly and carefully. Feel free to cut and paste this into emails to obtuse relatives:
The so-called Gas Tax Holiday won't actually save consumers a single penny at the pump. Instead, it will simply transfer our tax money directly to the oil companies as extra profits.
That's because if and when the gas tax is suspended, it won't actually increase the supply of gas, and it may actually raise demand as people start planning longer summer road trips.
Which means that gas prices will simply increase by the same amount as the tax. You'll pay as much or more for your gas at the pump. But instead of that money going to fix our roads and bridges, it will go right into the pockets of the oil tycoons as a sweet little expression of McCain and Hillary's love for them.
In other words, the "holiday" in question is April Fool's — special summer repeat edition.
Or you could think of it as a shell game, where the shell is Shell Oil.
And here's the real takeaway from this: Given the general wonkishness that Bill and Hillary are famous for, you can't convince me that Hillary doesn't understand every nuance of what I just said. She knows exactly how dishonest she's being in supporting this, and what a shameless bribe and swindle it is. And she doesn't care. She's pressing the full-speed-ahead button on this scam.
There is perhaps no better example so far of her willingness to say and do anything to get elected, no matter how shameless and unethical.
Meanwhile, Obama is in the role of the only candidate honest enough to point out the naked emperor. Will the public reward him or penalize him for that? I know what I hope will happen.