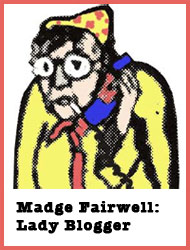 I'm a little behind the times with this, but I wanted to offer some belated shoutings-out and linkback lurve to my fellow participants from The Nod this past Wednesday evening.
Don Hall and Joe Janes did a great job of hosting the evening, making everyone feel welcome and creating the opportunity for the gaggle to mingle a little before the actual blog readings commenced. (Note: When a gaggle mingles, it can create either a mangle or a giggle, depending on how expertly you manage the process. It should not be attempted without a first aid kit and the jaws of life close at hand.)
In fact, Joe and Don cleverly broke the ice by putting together a fascinating art installation in the hospitality lounge of the Uptown Writer's Space, entitled "Pringles with Smeary Blue Writing on Them and Assorted Miniature Cookies in a Variety of Oddly Shaped Plastic Compartments: an Investigational Juxtaposition" which had us all merrily discussing the semiotics of snack foods and illegible movie trivia.
And eventually we all had a great time reading from our blogs, despite the fact that there's really no good way to read a YouTube video aloud. As a matter of fact, the bloggers in the "open mike" first half were every bit as good as the ones in the "featured" second half, so the whole evening was entertaining and just made you want to Be a Better Blogger. Sort of like Jack Nicholson in As Good As It Gets, only bloggier and without so many plastic utensils and things.
In addition to Don and Joe, participants and attendees for the evening included Nat Topping, Thea Lux, Lindsay Muscato, Big Calabaza, Greg Wendling, Amy Guth, Keri Myslinksi, and Paul Rekk.
But for my money the evening was stolen by a feisty 84-year-old lady blogger named Madge, whose work was read in absentia. She couldn't be with us because she was eating a sandwich. Also, making sure she wasn't going to get tipped in a canoe anytime soon.
Don and Joe are planning to make this a regular event, so keep an eye on the official Nod blog.