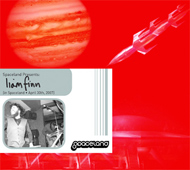 Crowded Freaking House, man.
Crowded Freaking House.
Last night's show here in Chicago was everything I wanted it to be, with a few very pleasant surprises along the way.
In fact, the only downside to the evening was that it had to take place at the odious and uncomfortable House of Blurgggh (complete with worse and ruder security than I've dealt with at many airports).
Before and after the show, I enjoyed hanging out and talking with some old friends from the "Tongue in the Mail" Crowded House mailing list, which I stopped being able to keep up with several years ago — but I still have fond memories of the Finn-fan community.
Neil's voice was a little husky, which he even commented on at one point, but the power was all there and the band did justice to a generous setlist of new and old songs, with no less than two encores.
From the new album Time on Earth they did "Transit Lounge," "Don't Stop Now," "She Called Up," "Silent House," "English Trees," and "People Are Like Suns."
And they did my all-time favorite, "Distant Sun," and it was blinding. I don't pretend to know what you want/but I offer love — the line that kills me every time, and has on occasion reduced me to tears. It's not just the line itself — it's the placement in the song, the climax that follows it, Neil's delivery, everything.
Some of the other songs they did from the classic CH catalog (from memory and not in order):
"Locked Out"
"Fall at Your Feet"
"Don't Dream It's Over"
"Something So Strong"
"When You Come"
"Whispers and Moans"
"There Goes God"
"Italian Plastic" (dedicated to Paul Hester, who wrote it)
"Pineapple Head"
"Nails in My Feet"
Overall they went very heavy on the Woodface, which you'll get no complaints about from me.
And it all sounded blissfully good. The only song I keenly felt the pain of not hearing was "Four Seasons In One Day," but as Steven Wright once said, you can't have everything — where would you put it?
The second encore ended with "Better Be Home Soon" flaring into a manic rendition of "Sister Madly" that in turn morphed into an improv version of "A Day in the Life" by the Fabs. Which was every bit as memorable a closer as it sounds like.
The show also had a lovely visual design, with its own set that followed the 2D/newspaper-clipping look of Time On Earth's booklet (and the "Don't Stop Now" video), as well as lots of striking gobos and lighting effects and things.
The show was perhaps a bit lighter on repartee than some of the best Finn-related shows I've seen, but there were still plenty of funny and entertaining moments, everyone seemed in good spirits, and the music itself more than made the show.
But let me get to one of the pleasant surprises I mentioned.
I have to say, Liam Finn (Neil's son, and erstwhile frontman of the band Betchadupa) was a revelation. He played with Crowded House during most of their set, and seemed like a strong addition to the group, even though he's not a full-fledged member of the band.
But it was during his own set that he really shone, leaping effortlessly from guitar to keyboards to drums played with a jaw-dropping combination of speed, precision and ferocity. He has the trademark Finn sense of humor, talent in spades, and a confidently experimental approach to what he does — all trippy guitar loops and moonage-daydream theremin jamming.
This was my first time seeing Liam perform and I was prepared to find him likable and talented, but not to be fairly well gobsmacked by both his instrumental abilities and his charisma, which is an anti-charisma sort of charisma, which is what works so well about it. He's not so much a great big affable showman, like Uncle Tim, or even a dry understated showman like his father Neil. Liam is (or at least appeared to be last night) the fascinating introvert you can't take your eyes off, because he has these little flashes of extroversion that come without warning and throw you for a loop. I suspect him of being brainy, although maybe that's just the beard.
Here's a video of him performing for the Herald Sun, which is fairly faithful to what I saw last night, although of course it loses some impact compared to seeing it live. The camera doesn't do justice to his drumming here because it turns it all into a blur, but at least you can hear it even if you can't really see it.

A YouTube commenter said that when Liam drums he's like Animal from the Muppets, which made me laugh because there's a bit of truth to it — but you'd have to imagine Animal getting a partial brain transplant from Dr. Bunsen Honeydew because there's a feeling of science and a charming dose of geekery about what Liam does, even when he's drumming maniacally.
And here's another live video, once again kind of blurry but still interesting to listen to. At about 3:52 he goes medieval on the theremin, which in concert is truly a thing to behold. And watch him break out on the drums again at the end.

And here's the more polished and pretty-looking official video for "Second Chance," from Liam's album I'll Be Lightning (US release forthcoming in 2008).

I like the part where he jumps around in the flowers. Possibly a little more than I should.
Listen to this song three times in a row and you'll be hearing it when you dream, I just bet you.
The new generation of Finns is looking very promising indeed. I'm starting to think that instead of a Finn Brothers album, one day we might be looking forward to a Finn Family album. With Liam's brother Elroy (who plays on several Time on Earth tracks) in the mix, they'll be able to staff a full four-piece band from the Finn gene pool, all of them leaping around crazily from instrument to instrument.
The album cover at the top of this post is the swell live recording Spaceland Presents: Liam Finn in Spaceland April 30th, 2007, which was on sale at the concert last night. There's info and ordering information for it on the Kufala Recordings site.
Here's a little profile of Liam, from Australia's Herald Sun, where Liam says about his one-man performances, "It's about making it dangerous. There is not enough danger in music."
And another one from the NZ Herald, which includes this great anecdote:
Neil recalls how at Coachella, Liam took over lead vocals on Don't Dream It's Over when a rogue fan of headlining act, Rage Against the Machine, threw a bottle and knocked Neil's microphone off its stand.

"[It was] the great thing about having your son on stage with you," says Neil. "I didn't realise this at the time, and I kind of thought there was this little guardian angel out there, because I could still hear my voice. Liam had immediately leapt forward to his microphone and started singing the song."
Liam's official site is here.
Finally, one other pleasant surprise: Last night's opening act 16 Frames (MySpace link) were very good, too — they have an album coming out this fall and I'll be keeping an eye (or an ear) out for it.
Previously on Ocelopotamus: