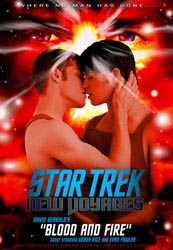 Good news for gay Trekkers: David Gerrold's infamous gay episode of Star Trek, "Blood and Fire," is finally getting made, as part of the online fan series New Voyages.
You might recall Gerrold as the man who wrote the episode often cited as the most popular Star Trek story of all time, "The Trouble with Tribbles." (He's also a brilliant SF novelist who wrote one of the best time-travel stories I've ever read, The Man Who Folded Himself.)
"Blood and Fire" — which would have featured the first openly gay couple in Star Trek history — was supposed to be produced in the late 80s as part of The Next Generation. Gene Roddenberry supported the script, agreeing with fans that it was time for gay characters to appear on Star Trek. Unfortunately, Roddenberry's influence over the show was waning at the time, due to his declining health. Ultimately the show's producers backed away from the episode, and it never got made.
Of course, now that George Takei has come out, we know that there were at least two gay men on board the Enterprise all those years ago (counting Merritt Butrick, who played Captain Kirk's son David in The Wrath of Khan and The Search for Spock — not to mention Johnny Slash on Square Pegs — and who sadly died of AIDS in 1989).