Okay, since I always like to follow the lead of the RubberNun, I took my best shot at recreating myself as a Simpsons character (courtesy of the avatar builder at the Simpsons Movie site).
Of course, being the multi-faceted Gemini Rising type that I am, I had to do four different versions.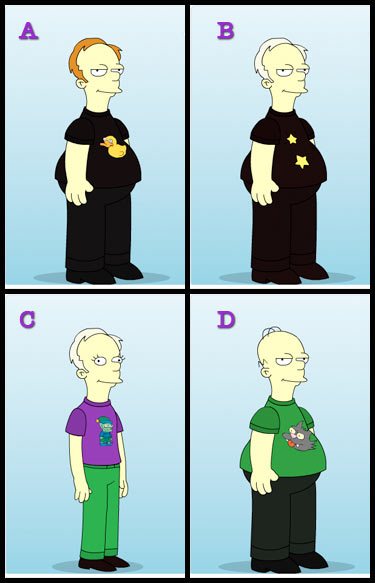 Figure A: The current version, except it's missing a beard. (Seems to me this particular avatar machine is really lacking in the department of allowing people to give themselves things like facial hair and/or glasses, unless those things were there somewhere and I just missed them. And don't even get me started on the shameful lack of skinny ties or sparkly pins.)
Figure B: The bleached-blond look, which I've sported for most of the last few years. A little more New Wave.
Figure C: The Pansy Kings look from the mid 90s. Following the lead of Dominic Hamilton Little, I used throw on a little eyeliner and mascara for the early editions of The Pansy Kings' Cotillion (and later in the 90s, sometimes to go out dancing at Planet Earth). I didn't really qualify for the "thin" body type back then either, but I was a lot further away from the Homer build I'm stuck with now.
Figure D: Finally, because my father takes great glee in pointing out every chance he gets that apparently, these days I am 100% freaking bald and just don't know it, here's one for Dad where I strip away all my balding denial. Me, as my father sees me. (And if it's not me now, it's really just a few years away, so I might as well learn to like it … )