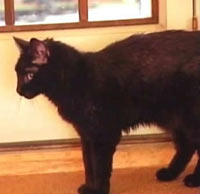 Oh, my heavens. How old do you think the world's oldest cat might be?
Try thirty-seven years. That's right, a black cat named (ironically) Baby was born in 1970, according to his owners, and he will be recognized by Cat Fancy magazine in its August issue.
You heard me.
For those feeling as skeptical as I was when I read this, here's a page on cat longevity that claims the Guinness Book of World Records has previously recognized a 37-year-old cat. Other cats in their 30s have apparently been documented as well.
Via Itchmo.