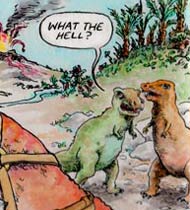 Go look at what Eli made.
When you get there, be sure to click on the thumbnail to look at the large version of the image.
The wonderfulness of it is hardly to be fathomed.



Illustration: Detail from "Tyrannosaurus M.E." by Hob, aka my pal Eli. I also highly recommend his mini-book of drawings Discrete/Discreet.