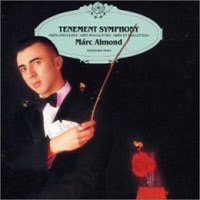 As Marc Almond-mania mounts to fever pitch in anticipation of the impending release of Marc's new album Stardom Road later this month, this post at After Elton has me thinking about Jacques Brel — who has long held a secure spot among the top 10 artists who make me wish my command of French were better.
One of my favorite tracks from the superb Tenement Symphony — possibly Marc's best solo album — is his cover version of Jacques Brel's "La Chanson de Jacky" (retitled as simply "Jacky").
Here's a video of Brel himself performing his original version of the song, in French with English subtitles. You get to see what a consummate performer Brel was, as he brings out the song's mordantly self-aware comedy.

To be for one hour, only one hour's time
handsome, handsome, handsome
… and stupid at the same time.
Now here's Marc performing his Tenement Symphony version (using the Mort Shuman English translation from Jacques Brel Is Alive and Well and Living in Paris). I love the excitement he brings to the song — he plays down the comedic tone a little bit, in order to play up the passion and yearning behind it. Which of course allows it to tap into Marc's particular genius, since he ranks alongside Morrissey as one of popular music's pre-eminent poets of unfulfilled desire.
The result is an adrenaline-charged paean to the need to be loved, in which the exhilaration comes from the expression of pent-up frustration as an overflowing torrent of poetic improvisation.

If I could be only for an hour
If I could be for an hour every day
If I could be for just one little hour
… cute in a stupid-ass way.
Of course, it's important to note here that Marc's version is universally acknowledged to owe a huge debt to Scott Walker's 1968 English version (video here), which also uses the Shuman translation. (And which, for some reason, is titled "Jackie" instead of "Jacky.")
Oh, but I'm just getting started. It's hard to talk about Brel covers without mentioning David Bowie, since two Brel songs rank in my estimation as possibly the best cover versions Bowie's ever recorded (behind "Wild Is the Wind," anyway).
I've got some Bowie/Brel video, and other goodies, after the jump.
First, here's Bowie's unforgettable performance of "My Death" (from D.A. Pennebaker's Ziggy Stardust concert movie).

But whatever lies behind the door
there is nothing much to do
angel or devil, I don't care
for in front of that door
there is you.
Bowie's long pause before he says "Thank you" at the end of the song is my favorite moment in the film, and his mischievous grin at the audience's response is priceless.
(Also check out this amazing jazz-flavored version of the song Bowie performed with Mike Garson, much more recently. Not sure of the exact time period — late 90s? At the end of the song the audience are clearly dying to repeat the concert film moment, but this time Bowie completes the lyric. Which demonstrates that the man is not entirely shameless.)
I also love Bowie's spine-chilling rendition of Brel's "The Port of Amsterdam" (originally titled simply "Amsterdam"), which was included as a bonus track on the Ryko version of the Ziggy-era Pin-Ups album. In fact, I like it better than any of the songs that actually made the Pin-Ups album proper. Too bad there's no video for it on YouTube.
But here's Brel performing the song, again with English subtitles, and as brilliant as Bowie's cover is, he can't touch the electrifying intensity Brel brings to it. I wonder if anyone could. The first time I watched this video it literally made my jaw drop.

Shame the ending is cut off, but what's there is enough.
The notes on the YouTube page for this video say,
it was first performed at the Olympia in Paris in 1964 and received a three minute standing ovation.
… and I have no trouble believing it. You would need to applaud for three minutes just to recover.
Finally, a last word from Jacques himself. This quotation is from the Jacques Brel Wikipedia entry:
If I were king," Brel himself once said, "I would send all the Flemings to Wallonia and all the Walloons to Flanders for six months. Like military service. They would live with a family and that would solve all our ethnic and linguistic problems very fast. Because everybody's tooth aches in the same way, everybody loves their mother, everybody loves or hates spinach. And those are the things that really count."
Related:
Brel's recordings of "Amsterdam" and "La Chanson de Jacky" are available on the compilation Quinze Ans d'Amour.
As previously noted, you can hear three songs from Stardom Road on Marc Almond's MySpace page.
If you're looking for the version of Bowie's Pin-Ups with "The Port of Amsterdam," you'll have to dig up a used copy because the current pressings of the album don't have it. That was the worst thing about Ryko losing the Bowie catalog — for some inexplicable reason all that great bonus content disappeared from later releases. At any rate, there appear to be used copies of the Ryko Pin-Ups available from Amazon — just make sure it's really the Ryko CD you're getting.