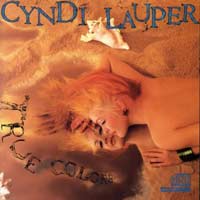 It's every gay boy of a certain age's dream. The big buzz this week is the "True Colors" tour: Cyndi Lauper traveling to 15 cities this summer with Deborah Harry, Erasure, and Margaret Cho, all in support of the Human Rights Campaign. It's like ice cream with ice cream on top.

"This tour is basically gonna be five hours of some of my favorite bands and me, and Margaret Cho making us laugh, and while we're touring, we're going to be raising awareness," Lauper told The Associated Press on Friday. "I think people don't know what's going on, that's all."

Besides headliners like Lauper and Harry, the show will have guest artists such as Rufus Wainwright in the various cities it hits. "Every time I talk to a band, they're like, `I want to go!'" says Lauper with a laugh.

The tour, sponsored by Logo, the MTV Networks channel targeting gay audiences, will provide information to fans who attend, as well as purple wristbands with the slogan "Erase Hate" from the Matthew Shepard organization, named for a gay youth killed in an apparent hate crime. A dollar from every ticket sold will be earmarked for the Human Rights Campaign, which advocates equal rights for gay, lesbian, bisexual and transgendered people.

Patti Smith has a new album of covers coming out, called Twelve. It includes songs by Stevie Wonder, Nirvana, Neil Young, and, wait for it, Tears for Fears. Yep, Patti's covering "Everybody Wants to Rule the World." I can't wait to hear this:

Patti's version of the TFF hit is beautiful, and the earnest ache in her voice commanded my ears to pay attention and listen to the lyrics for probably the first time since the '80s narcotized my eardrums … So how did Patti Smith choose to cover an '80s Britpop song? She was sitting in a café, she said, thinking about the war and the world when she heard this song come over the speakers. She said she'd never heard of Tears for Fears, but she thought, "That's it, everybody does want to rule the world."

I could happily waste a whole day just wallowing in all the beehive-alicious B-52's videos on YouTube. But my favorite has to be this clip of the 2's performing "Private Idaho" back in the day. Just the set alone is so quintessentially New Wave I could it eat it with a day-glo plastic spoon. Throw in the dance moves, and Keith Strickland drumming (Keith Strickland doing anything), and I'm a total wreck. Take a gander.